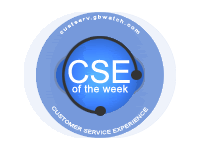 Every week, I will feature good customer service experiences. These experiences may be my own or that of my friends or of other people.
I would also welcome good customer service stories from you, my dear readers. So, if you have a good customer service experience to share, please email it to ma[dot]merdekah[at]gmail[dot]com.
If you're story is featured, you will get the badge on the right side and display it on your blog or website. That way, we get to spread some link-loving.
For some customer service experiences, click HERE.