The Voice of the Customer is perhaps the most studied yet still the most misunderstood aspect of customer service. Exactly what is the voice of the customer? Do you listen to it?
Well, determining the voice of the customer doesn't start and end with addressing your customer discrete needs and complaints. Listening to the voice of the customer is not about listing their demands and ticking each one out from the list. It is not even enough to train your CSRs to what is customer service all about and how to give an excellent one.
To succeed in your customer service program, you have to build it into your organization's DNA. Make it an intrinsic part of your organization.
Presented by Cecilia "Chilly" Lopez, Six Sigma Black Belt, Independent Consultant,  at the recently concluded The 4th Lean Six Sigma Conference 2014.
First step is to define your strategy. Identify your customers and note their expected behaviors.
Second, build the discipline. Make everyone aware of the voice of the customer. Translate their expected behaviors into CTQs, these are critical to quality issues. From which, establish the balance scorecard (BSC).
Third, establish customer feedback and follow through.
Fourth, and perhaps the most neglected part, is communication. Make the initiative known to everyone in the organization. In doing so, everyone is living the same goal, and that is to give excellent customer service.
Fifth, measure your customer engagement through NPS (net promoter score) and CES (customer effort score). These two metrics are quite interesting because they go beyond just satisfying customer needs. They take the satisfaction a step further by asking the following (ultimate) questions:
How likely is that you will recommend this firm or service or product to a colleague or friend? (Fred Reichheld) This question presupposes that loyalty and repeat business is defined by the customer's willingness to help others. Satisfaction alone dos not directly correlate with repeat business. The formula: NPS = % of Promoters – % of Detractors.
How much effort did you personally have to exert to… ? or The company made it easy for me to handle my issue. The concept of CES was developed by the Corporate Executive Board's Customer Contact Council. It is a metrics that expresses the degree of effort that the customer had to exert in order to get an issue resolved or a request fulfilled, a question answered, a product purchased/returned.
Image Source
Mid last year, my organization had a customer service training. The objective of that training was to improve client relations. So, we conducted a TNA of the following:
communication etiquette
developing and maintaining rapport
handling complaints
personal space
knowledge of products and services
problem solving
Results of the TNA show that the organization really need to improve on these areas, especially on the problem solving which was rated low by all respondents (client, agent supervisors, and agents).
One of the interesting discoveries during the training is determining who the customers are. The group only identified one type of customer, and that is the clients. These are the external customers. They forgot about the other type of customer that they also deal with every work day, and these are the internal customers.
Internal customers take in the form of teammates, admin personnel, and support staff that they get and give information to and fro. Also, little did the group know that the quality of relationship they were having with these internal customers affect the quality of their relationship with their external customers, and vice versa.
In the course of dealings within the organization, some are lost, some are lacking, thus the people are also lost on how to address the concerns of the external customers. I believe the identification of this really help improves the system.
So, do you know who your customers are?
Seth Godin, over at his blog, he asks the same question. Then he lists down several questions to help you identify and know your customers more:
What do they believe?
Who do they trust?
What are they afraid of and who do they love?
What are they seeking?
Who are their friends?
What do they talk about?
I love Dr. Seuss! Then today, I stumbled upon an article on business2community.com featuring Dr. Seuss's insights that can be applied to customer service.
Curious, here they are:
"Unless someone like you cares a whole awful lot, nothing is going to get better. It's not."
"A person's a person, no matter how small."
"Why fit in, when you were born to stand out?"
"Sometimes the questions are complicated and the answers are simple."
"Today I shall behave, as if this is the day I will be remembered."
Makes sense, right? These are quotes that can be applied not only to life in general but also to how you can cultivate relationships with your customers.
Any thoughts?
In this season of giving, the surprise factor spells a big difference.
This WestJet's Christmas Miracle video (above) is really heartwarming. I was teary eyed watching it. To me, nothing compares to the feeling of seeing the faces of our customers being delighted by our surprise.
It's Christmas time and perfect time to surprise our customers, our employees, our friends, and our families.
What surprises do you have up your sleeve?
In keeping with their customer philosophy of Spirit to Serve, Marriott Manila celebrated Housekeeping Appreciation Week.
Marriott's Happy Housekeepers
From September 8th to 14th, Marriott Hotel Manila put the spotlight on their Housekeeping Department. The department is composed of men and women who ensure the cleanliness of the rooms so that guests get the comfort and solace they need while staying in the hotel.
The celebration opened with a lavish breakfast spread prepared for their hardworking housekeepers. The tables were turned as shoe shine service was offered to them by no less than the executive committee and senior managers. That started the various housekeeping-related activities for the rest of the week. These included from linen sorting contests to bed-making presentations, all done by senior officers.
To cap off the activity, their valued associates together with the Human Resources Department hosted the Pangarap Foundation.
"This is what makes a hotel work," General Manager Bruce Winton stated, commending the gallant efforts of the Housekeeping personnel behind the scenes, putting the hotel on the map as the best Housekeeping team in Asia Pacific.
Their housekeepers do not go unrecognized. Marriott is thankful for all that they do.
What is commendable about this activity is that it develops empathy. By working on the shoes of the worker and doing his work helps you understand the job at hand and the challenges that go with the job. Cheers to Marriott Hotel Manila for coming up with this kind of activity!
Marriott Manila's The Housekeeping Appreciation Week in Photos
"At your service," Manager Iris Lim
Director of Marketing Cristy Carreon
Director of Services Melvyn Angeles
Front Office Manager Renz Reyes
HR Director Nina Quinto with housekeeper
Activities with the Pangarap Foundation
bathrobe preparation
bed-making contest
bed-making relay
With the Pangarap Foundation
About Marriott Hotel Manila
An inviting beacon set in the world class entertainment complex of Resorts World Manila, Marriott Hotel Manila is ideally located in Newport City across NAIA Terminal 3. A 15-minute drive from Bonifacio Global City and Makati Business District it affords a splendid view of the adjoining Villamor Golf Course. The hotel boasts 342 exquisite guest rooms that offers luxurious bedding, high-speed internet, 40" full high definition LCDs with IPTV and the new remote jack pack plug-and-play system. Hotel facilities include Quan spa, 6 meeting rooms and a Grand Ballroom, 4 superb restaurants, outdoor pool and a health club. For inquiries and reservations, call 988-9999 or visit www.marriott.com/mnlap
Image Source
In today's world steeped in social media, quality customer service can be your businesses top marketing asset. Just take a look at Zappos. Since day one, the shoes and apparel dealer has made customer care central to culture, and as a result, reaped the word of mouth and customer loyalty benefits.
"Zappos invests in the call center not as cost, but the opportunity to market," author of The Zappos Experience, Joseph Michelli, told me.
Recently, my company Software Advice had a chance to ask one of Zappos loyalty managers how they track and measure this customer-centric strategy. He told me about four performance metrics they use to drive productivity and incentive emotional connections with the customer. Here's summary of these measures:
Monitor Total Interaction Time, Not Call Quantities
Instead of valuing quick time to resolution or processing high call volumes, Zappos looks at the percentage of a time an agent spends on the phone.
Agents are expected to spend at least 80 percent of their time in customer-facing communications.This measure – called personal service level – is a way to empower the team to utilize their time how they see best promotes customer loyalty.
Quantify Wow Moments
Zappos measures calls against a 100-point scale called the "Happiness Experience Form." CSRs are expected to keep a 50-point average or higher. If they fall below that line, they receive extra training. This scale is based on answers to the following questions:
Did the agent try twice to make a personal emotional connection (PEC)?
Did they keep the rapport going after the customer responded to their attempt?
Did they address unstated needs?
Did they provide a "wow experience?"
Zero in on Idle Chats
Zappos monitors "abandonment time," or periods when an agent has a session open even though the customer already disconnected from the chat.
This strategy of looking for idle chats zeroes in on the cause of unproductivity. When agents aren't productive, customers wait longer. And the longer they wait, the more apt they are to abandon the session.
Reward Perfect Attendance and Punctuality
Zappos uses a program called Panda to combat absenteeism. Employees receive a point for every day they miss work or come in late. Staff with zero points in a given period receive a varying number of paid hours off. These hours can be accrued and stacked for an entire paid day off, Carder explains.
The key take away is that Zappos created metrics that emphasize relationship building over rushing the customer off the call. At the same time, these KPIs still successfully improve performance and make employees feel appreciated and rewarded.
This is a guest post.
A properly-aligned buyer persona can mean the difference between squandering your marketing budget and making the most of it. These hypothetical customer profiles dictate everything from what blog topics you cover to the advertising campaigns you purchase (or not).
Many companies conduct interviews with sales and customers to fashion their buyer persona. But there is another often overlooked resource for defining your target customers' values, wants, fears, and objections – customer service.
Your support team talks to your REAL customers every day. So it makes sense they would be most in tune with their habits. Here's several tips you can use for leveraging customer service to refine your buyer personas.
Identifying Preferred Communication Channels
Buyer personas help your marketing team ensure they are contacting the right audience, at the right time in the right place. Customer service is a great venue for addressing that last factor – the right place.
This can mean communities and publications where they gather, but also the communication channel they are most familiar with – whether that's helping themselves online, calling or emailing. Have you customer service team flag each interaction with the communication channel used to submit the issue. That way, you can later pull a report and mine for trends. If one of your personas primarily calls, your sales team will know that's the most effective means for connecting with that lead.
Assess Technical Savvy
Understanding your customer's level of technical savvy is also important as you craft your blogs and other marketing materials. To do this, start by meeting with your customer service team to identify the most common questions they receive about your product or service.
Then, for each question, discuss what technical bucket they would fall into — whether that's "highly technical," "general," or "basic." You could choose more macro tiers that are specific to your company, too.
Here's an example – my company Software Advice helps companies figure out which software products best fit for their needs. We've learned that small businesses generally have broader questions (general) about what business problems various software types solve. On the other hand, larger buyers ask more pointed questions about specific functionalities and features (technical).
Fears, Wants, and Values
Your marketing team should also work with customer service to identify other possible support behaviors that reveal buyer intent for your product, or realized fears from the pre-purchase stage. Let's crutch alternative producer, Goodbye Crutches, as an example. They have a persona, "Mary the Motivated Mom," and perhaps she'd call customer service wanting to know if the she purchased could be disassembled because it wouldn't fit in the trunk of her car.
That's a really good question. Probably a question a ton of other potential buyers have. It also reveals a concern she and many others have with your product that would be pretty handy to clear up during the pre-purchase stage, eh? Marketing might, knowing this information, include a diagram in marketing materials that shows how the scooter folds up and fits the dimensions of most standard vehicle trunks.
To record and track this data, allow space either in your customer service software or CRM to track these "fears" "wants" or "values." Ideally you can export the information into Excel to sort and look for patterns that will help you refine your buyer personas as you gather more and more information.
Find Timely Marketing Opportunities
Customers don't always use your product right away. Sometimes they purchase it for a particular occasion, or just for "when they need it." This time might be obvious, but it's likely there's other situations you didn't imagine your customers would use your product.
Customer service can help unearth these "when they need it" moments. This can happen in two ways. One, have your service team start to record how customers are using the product or service. In other words, what were they doing when they had to call to figure something out, or solve and issue. Then, you can look for trends on those uses.
The second way is to allow space to record calls that are relevant to a particular time of year or event. Does your persona attend a certain festival every year? Are they a parent, and need to prepare for back to school? Understanding what is timely to your consumer will help reinforce relevancy and immediacy to buy.
Prioritize Marketing Spend
Customer service can also enable your marketing team to prioritize spend better. What's the support volume required for each persona? How often does each persona call? How long does each call last? How often do they refund?
Depending on what percent of sales that persona contributes, you might choose to decrease marketing investments for that particular persona if the cost to acquire them as a customer exceeds the cost to keep them on board.
How does your marketing team create buyer personas? Join the conversation by commenting here.
Ashley Furness is a CRM Analyst for research firm Software Advice. Her work has appeared in myriad publications including Inc., Upstart Business Journal, the Austin Business Journal and the North Bay Business Journal. Before joining Software Advice in 2012, she worked in sales management and advertising.
Glock Crown – Customer Is The King clipart
from Clker.com
Last year, like in the previous years, customer service has become big in any industry. In fact, we have come now to an age where customer service is king.
The latest technology has leveled the playing field, and that leaves customer service as the differentiating factor. An easy example that I can give you is the iOS and Android. When the former comes with a new app, the latter follows. Or when a TV manufacturer comes up with the flat screen the others follow. Some even cheaper.
That's why companies have to be better in their customer service strategy. I stumbled upon this article on B2C, which lists the top 10 customer service trends for 2013.
The article talks about the rising expectations of the customer, and the influence of social media and free information on the Web. The environment has really changed.
A study conducted by Nunwood showed that UK shoppers prefer online shopping to in-store.  The study, the 2012 UK Customer experience excellence program, ranked the top 100 brands in the UK based on the customer experience they provide.
Here are some of the results:
supermarket customers give the online experience better scores by an average of 3.9%
non-food retail customers give the online experience on average a 5% higher than in-store
One brand, the Waitrose, in fact, had a 6.5% higher online customer experience. Craig Ryder, a director at the report's authors Nunwood cited the following reasons for the online preference of customers:
customers value their time and effort – if a brand values the same and shows it to the customer, they get the appreciation back
online shopping is a much more controlled environment – vendors can plan out delivery time and supply better compared to in-store where external factors are more unpredictable
But Ryder recommends to have a balance between the online and in-store experiences. I believe, so, too. After all, it's about brand's consistent service that is important.
The UK Customer Experience Excellence report is based on more than 40,000 individual experiences from around 7500 individuals. Each experience is analysed by Nunwood and used to rank it against a series of six pillars of experience delivery. These pillars are the distinctive characteristics of leading firms and have been distilled from a database of over 600,000 evaluations across 550 brands and.
Sample sizes:
Overall report – 7000 people, 44,069 individual experiences
Supermarkets – 18,062 individual experiences
Non-food retail – 44,069 individual experiences
Top 10 brands in the UK as ranked by the quality of customer experience:
Top 10 brands in the UK as ranked by the quality of customer experience:
Amazon
John-Lewis
Lush
First Direct
Ocado
M&S Food
The Co-Operative Bank
Green Flag
Waitrose
Virgin Atlantic
In any case, this is now a case of man versus machine. Would you rather interact with your PC or with a real salesperson?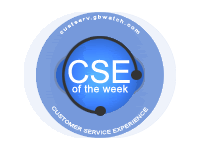 For this week's good customer service experience, a guy shares his experience with London Gatwick Airport.
How is Your Welcome!
Every time you visit another country, that country has a unique opportunity to provide you with a welcome that you will never forget. Most of us are aware of the importance of first impressions – if you think back through your life, how many people have managed to change your first impression of them? It's the same with places. I remember, many years ago, going on a fantastic three-week holiday to the Caribbean. Arriving on the tiny island of Canouan in a small aircraft, we were ushered to a small hut that served as the customs and immigration office for the island. The officials were informally dressed, welcomed us to their island, and then when the formalities of checking our passports were completed, they offered us a cup of rum punch as a welcoming gesture. Now, I'm not suggesting that everyone should get a shot of the local alcoholic drink when they arrive in a new country, but there should be some kind of welcome above and beyond the perfunctory checking of passports. I went to Canouan in 1989, and I am still telling people about that experience 23 years later!
London Gatwick Airport is getting this right – in fact, on a recent trip to Canada I was so impressed with the service at Gatwick Airport that I decided to make it my airport of choice in the U.K. from now on. Since the new owners took over from BAA, they have done a huge amount of work on employee engagement and this has been reflected in the improvements in customer experience that are there for all to see.
So, wherever in the world you are reading this, go and look at your national airports. What kind of customer experience is going on there – what are they doing well, and what needs to be improved?
Remember, you never get a second chance to make a first impression – and that applies to countries and cities as well as people, although it's the behaviours of your people that you will be judged on.
The story is shared by:
Graham Frost is a customer service and employee engagement specialist. He spent the first twenty years of his career working in front line customer service roles in the hospitality and transport industries and he knows what works, and what doesn't. Nowadays Graham helps businesses to provide great employee experiences, which result in great customer experiences. He is also an Employee Engagement Adviser for The WOW! Awards and part of the Engage for Success group which is working to improve employee engagement in the U.K.
You can contact Graham at graham@grahamfrost.com He was recently nominated as the 4th most influential customer service expert on Twitter, where you can follow him at www.twitter.com/grafrost