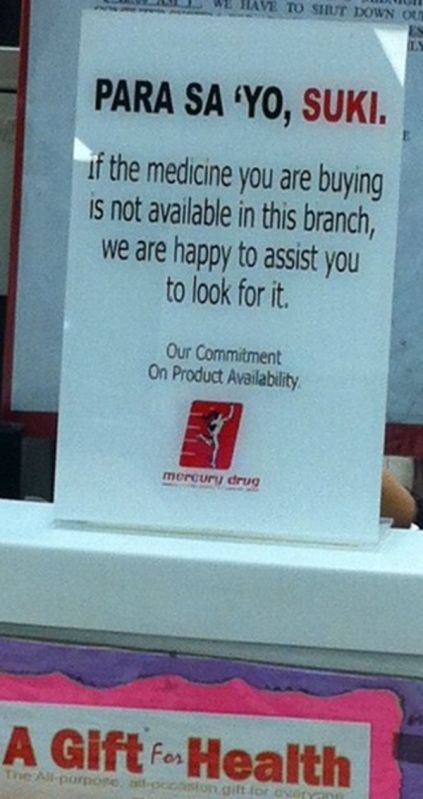 I have featured Mercury Drug in this blog a couple of times (here and here).
Mercury Drug's brand of customer service is really worth mentioning and sharing. They seem to have mastered customer touchpoints such as:
Reliability – We can rely on their pharmacists and sales people for advice on what medicine to take. And mind you, they don't just dispense any medicine without making sure that the meds will be used properly. I would often overhear them asking customers basic questions.
Speed – They have set up a system that are able to serve customers fast and quick, and efficient! Clearly, they put customer's first.
Commitment - They have been putting up branches all over the country, and I am pretty sure they will be continuing doing so. They have committed to serve.
Humane – They also show they care. First they introduced the call-order ahead, and then customers can pick up their orders once ready. Now, they can find the medicines for you if they don't have them in their branch. Proof is the photo above of this post.
For me, these meaningful touch points are going beyond service. It's already caring for another person.
1 Comment »
This is an excellent post and example on the type of customer service that all businesses should try to provide. The four touch points noted in this post show exactly why Mercury Drug does such a good job of providing service that is worth mentioning more than once. We know about good customer service and how important it is for complete customer satisfaction so we applaud Mercury Drug for their excellent job.

Comment by Sarah Gordon, CCS — August 14, 2012 @ 4:36 pm
RSS feed for comments on this post. TrackBack URL
Leave a comment