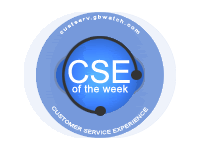 For this week's good customer service experience, a guy shares his experience with London Gatwick Airport.
How is Your Welcome!
Every time you visit another country, that country has a unique opportunity to provide you with a welcome that you will never forget. Most of us are aware of the importance of first impressions – if you think back through your life, how many people have managed to change your first impression of them? It's the same with places. I remember, many years ago, going on a fantastic three-week holiday to the Caribbean. Arriving on the tiny island of Canouan in a small aircraft, we were ushered to a small hut that served as the customs and immigration office for the island. The officials were informally dressed, welcomed us to their island, and then when the formalities of checking our passports were completed, they offered us a cup of rum punch as a welcoming gesture. Now, I'm not suggesting that everyone should get a shot of the local alcoholic drink when they arrive in a new country, but there should be some kind of welcome above and beyond the perfunctory checking of passports. I went to Canouan in 1989, and I am still telling people about that experience 23 years later!
London Gatwick Airport is getting this right – in fact, on a recent trip to Canada I was so impressed with the service at Gatwick Airport that I decided to make it my airport of choice in the U.K. from now on. Since the new owners took over from BAA, they have done a huge amount of work on employee engagement and this has been reflected in the improvements in customer experience that are there for all to see.
So, wherever in the world you are reading this, go and look at your national airports. What kind of customer experience is going on there – what are they doing well, and what needs to be improved?
Remember, you never get a second chance to make a first impression – and that applies to countries and cities as well as people, although it's the behaviours of your people that you will be judged on.
The story is shared by:
Graham Frost is a customer service and employee engagement specialist. He spent the first twenty years of his career working in front line customer service roles in the hospitality and transport industries and he knows what works, and what doesn't. Nowadays Graham helps businesses to provide great employee experiences, which result in great customer experiences. He is also an Employee Engagement Adviser for The WOW! Awards and part of the Engage for Success group which is working to improve employee engagement in the U.K.
You can contact Graham at graham@grahamfrost.com He was recently nominated as the 4th most influential customer service expert on Twitter, where you can follow him at www.twitter.com/grafrost